Past Play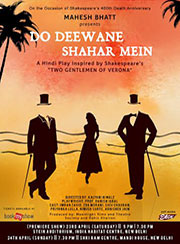 Do Deewane Shahaer Mein
Our new Hindi / Hinglish stage production inspired from Shakespeares Romantic Comedy- Two Gentlemen of Verona titled in Hindi as Do Deewane Sehar Mein (Rom-Com, Musical) starring Bhatts Protege Imran Zahid and Zoa Morani also a film actress (Always Kabhi Kabhi and Bhaag Johnny) and others presented by Mahesh Bhatt, directed by Ms.Kalyani Hiwale , written By National Award winning playwright Danish Iqbal and Produced by Moonlight Films and Theatre Society and filmmaker Mr. Rohit Khaitan. We recently opened this play to commemorate Shakespeares 400 death anniversary on 23rd April at India Habitat Centre, New Delhi and Sri Ram centre New Delhi with full house and audience overflowing.
http://timesofindia.indiatimes.com/entertainment/events/delhi/Verona-becomes-Delhi-in-Shakespeares-desi-adaptation/articleshow/51979744.cms

https://www.facebook.com/dodeewaneseharmein/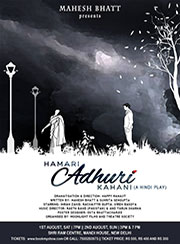 Hamari Adhuri Kahani
Mahesh Bhatt mega play Hamari Adhuri Kahani - The theatrical adaption of Mahesh Bhatts film "Hamari Adhuri Kahani " Starring Imran Zahid and Rachaatari Gupta in premiered in New Delhi and later staged in Kolkata , Mumbai and Hyderabad. The story is current, most relevant and relatable to the time that we live in. The story has the heartbeat of single mother, who lived a difficult, solitary life as her husband, whom she loved so intensely, was conspicuous by his absence. He was simply unavailable for her. The story, is written from the perspective of this young single mother and how she deals with the world. This story is important because women finds itself at the crossroads today, with the pull of tradition and the endeavor to break free of conventional bondages both existing simultaneously. As you have seen, in last 10-20 years more changes have taken place in this country than in the last 3,000 years. This play negotiates the cultural roadblocks and barricades that stand in the path of womens self-emancipation."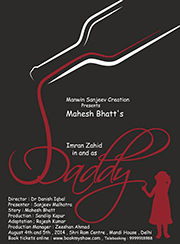 DADDY A theatrical adaptation of Mahesh Bhatt Hindi classic, Daddy is the story of role reversals is a unique fairytale. It tells the story of a princess and her father and how her courage broke an evil spell to make happily ever after possible for them.Daddy was conceived in the turbulent times when Mahesh Bhatt was struggling to combat alcoholism. Daddy introduced Pooja Bhatt as a young girl who helps her father, a burnt-out singer, kick his drinking habit and regain his lost glory. The audience wants naked truths, which is exactly what Daddy has. Actor Imran Zahid will be played the father, a role for which Anupam Kher won the National Award , Directed by Dr Danish Iqbal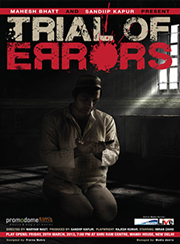 Trial of Errors
The play deals with trust deficit among the Indian Muslim and revolve around the issue of agencies role regarding involvement of Muslim youth in terrorism. Trial of Errors which looks at the grave problem of Muslim youth being branded as terrorists and the trauma they face during the process of fighting for justice. It is an issue that has been long ignored by the people but continues to rupture the social fabric of our country. It has been an issue which has always been close to him and he is quite vocal about it, expressing his discontent over the treatment meted out at them on various platforms.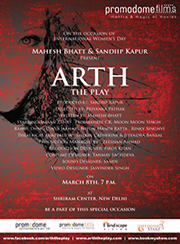 Arth The Play
, is the stage adaptation of 1982 classic semi-autobiographical film by director Mahesh Bhatt changed the face of Indian cinema forever. Arth which looked at the bold subject of extra marital relationships was also remembered for its memorable soundtrack.Arth was about a philandering man and the two women in his life. The film looked at the issue of women emancipation like no Indian dramatic work ever has. No one has been able to better what Arth highlighted in the world of movies or in theatre. I think the 21st century India needs to be experience the theme of Arth through theatre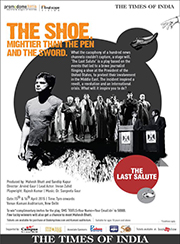 The Last Salute
based on the book The Last Salute to President Bush, written by Iraqi journalist and shoe thrower Muntadhar Al Zaidi on the shoe-hurling incident involving George W. Bush. The play explores facts of the gulf crisis and the US intervention which has been questioned by the civilized world time and again.
The play is expected to attract the elite audience which is interested in global issues like this one.
It explores emotions, talks about world peace and political orders of the day effect the common man.